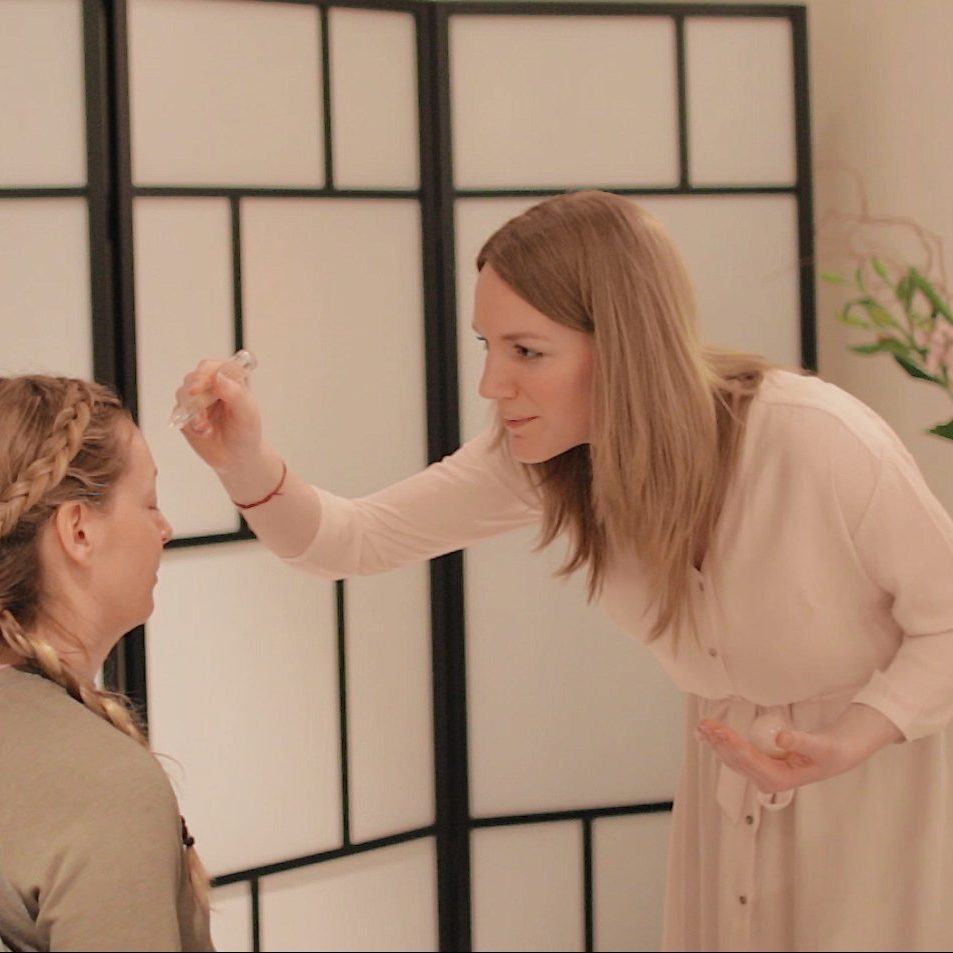 Personal Pranic Healing Sessions
We can help you feel better & shine from the inside out. We'll help your body to heal itself by balancing the energybody. This creates the proper energetic condition to kick-start the self-recovery mechanism of your body. We offer treatments for all kinds of ailments, discomforts and wishes:
Physical ailments like asthma, high blood pressure, psoriasis, heart ailments, tinnitus, musculoskeletal problems and any other sickness of different organ systems and body tissues
Psychological ailments like stress, burn-out, depression, anxiety, trauma, addiction and phobia
Facelift and Bodysculpting sessions are our specialty offerings that will give you the

golden glow

! Read more below.
Pranic Healing is a non-touch method
We just work on the energybody that is intimately connected to the physical body
In Pranic Healing we clean and energize the energybody at a short distance from the visible physical body. Since the energybody interpenetrates the physical body, changes in the energybody have a direct effect on the physical body.
There usually is an immediate effect like reduction in pain, more lightness and/or more energy. The full effect of a treatment can be noticed about 12 hours later. To let the energybody absorb all the fresh prana, it's needed not to shower for 12 to 24 hours after the Pranic Healing session.
When you're receiving Pranic Healing therapy at Soulibri, you'll be healed by an associate certified Pranic Healer – Eef Bons-Joshi. To make sure you'll get the best help, we'll follow the process described below – and always adjust our approach along the way when needed, so it's helping you get where you'd like to be.
During the first session we take more time to assess your needs and wishes, scan the condition of your energybody and apply the first Pranic Healing treatment.
Based on the results of the intake, we'll plan follow up sessions. The amount and frequency is very dependent on your specific situation and needs to be tailor-made.
There are certain standard protocols that we can use when there's a clear medical diagnosis. Based on the actual healing results, we'll adjust the approuch so it fits your needs.
You'll always be able to contact us when you have questions. Reach out anytime and we'll get back to you as soon as we can.
one of the things we love the most
Pranic Facelift & Bodysculpting
Change your looks naturally
When we change the energybody, the physical body follows. This way, we can tighten, strengthen and sculpt the muscles, connective tissue and skin. Cleaning negative thoughts and emotions we have about ourselves creates an inner beauty that radiates outwards. You'll shine from the inside out, naturally.
No need for needles, just crystals and prana
During these special crystal healing sessions, you'll be receiving a lot of prana from the meditation that you'll practice while the healer will work on reducing wrinkles, excess fat, lifting the eyelids and other unwanted features with a special laser crystal.
Already after one session, clients report a noticeable change and receiving compliments about the beautiful glow they have. When you feel good about yourself, also you're face and body will tell. Inner and outer healing are combined in these special Pranic Healing treatments.
The best results are achieved with 5 to 6 sessions. The usual rate for one session is €99,80. When you book 5 sessions now (499 euros), I'll give you one extra treatment for free.
Two weeks ago, I had a bad cold, my throat and windpipe were bothering me and I was coughing a lot. Eef was going to give me a distant healing, I just didn't know exactly what time she was going to do it. Suddenly, I could clearly feel relief: I was able to breathe better, coughing reduced and my throat became calmer. When I looked at my phone I saw Eef's message that she was doing the healing. So special! The next day, the symptoms were clearly reduced. Eef gave me another distant healing that day and on day three, I felt normal again. Thank you Eef!
In a series of 6 sessions I've received Pranic Facelift and Bodysculpting from Eef. The reason was to remove excess chin fat and wrinkles. We measured the chin fat before and after and it actually decreased by centimeters. I also see my wrinkles are reduced. What was also nice is that during the sessions I became very calm and relaxed and could let go of emotions that I was dealing with. It certainly does something to you inner state as well.
It's a pleasure to work with Eef. She is a nice person, takes time for you and does her work skillfully and professionally. I really liked it and I will definitely come back for maintenance.
It's great to experience that I can move again without pain [someone suffering from hernia and scoliosis]. People around me notice that I am more energetic and more relaxed. The frown of pain is cleared from my face.
In the beginning, I had my doubts, was skeptical, and I hardly dare to say now that I didn't believe in it at first… But it works for me!
Want an intake? Book your first appointment now.